Swimming Pool Design
now browsing by tag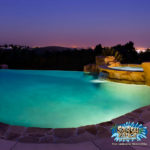 Added Swimming Pool Details or Features to Make Your Pool Spectacular!
There are so many different details or features that you can add to your swimming pool. Most people are prepared and know the general style of swimming pool they want and maybe one or two added features, but there are so many options out there! We really can design and build a pool to meet YOUR desires–budget allowing of course.
Here are a few pool details or features from past Splash Pools projects that you could consider for your new swimming pool.
Water features, like deck jets add movement and excitement to your swimming pool design.
The overflow edge is a current trend and gives a modern flair to a more traditional free form style rock pool like this one.
Swim up bar with in-pool seating is both convenient and fun for the entertainers!
Adding a reef step or baja step to your swimming pool is fantastic for young children and adults! Adults enjoy sitting in the shallow water relaxing on the warmer days and this is great for lounge chairs too!
Why settle with one waterfall when you can have three or four? This rock pool has an entire wall of waterfalls to enjoy in this personal oasis backyard.
Just because you have a small pool, doesn't mean it has to be boring. Adding a feature such as this curved tile wall with water fall adds so much to the design of this pool.
More About Splash Pools
Splash Pools and Construction's team has been working in the pool industry for more than 30 years. We have our own in-house crews to control the quality of our work. From our office in Chino, we serve several Cities in the surrounding area, including Yorba Linda, Chino Hills, Irvine, Tustin, Corona, Ontario and more. Call today to find out if we work in your area – 909-614-1333.
How does a backyard swimming pool fit with your new year's resolutions?
Let us explain!
The new year is well underway! Do you have any new year's resolutions that involve a new swimming pool in your backyard?
Maybe you do and you just didn't realize it until now.
Resolution 1: Spend more quality family time together.
Having a swimming pool right in your backyard is great for family entertainment and to spend time together. We wrote a post last year about how building a swimming pool is an investment in your family.

Resolution 2: Get healthy.
Swimming is great exercise. It is considered low-impact, great for cardiovascular health and convenient when you have a pool in your own backyard. So no more excuses, let's start on your new swimming pool today and get on the road to a healthy lifestyle. Read more here about swimming for exercise.

Resolution 3: Stress less/relax more.
Things move at such a fast pace in 2017! Leave your cell phone in the house and get outdoors. What could be more relaxing than spending time in your own backyard paradise? Help us help you to relax by hiring Splash Pools and Construction to build a new swimming pool. In addition to swimming pools, we can design/install custom water and fire features, outdoor living areas, built in BBQs/kitchens and landscape to complete your backyard.
No matter what your reason is for building a backyard swimming pool, the time is now to get started.
Looking for a backyard swimming pool builder – we've got you covered.
Splash Pools and Construction is a Southern California backyard swimming pool builder with more than thirty years of experience in the pool industry. We design and build swimming pools of all types from traditional free form pools to custom acrylic wall vanishing edge pools that have a more modern/edgy look.
Call our office to see if we work in your area – 909-614-1333.
This backyard was designed for a friend of ours that has a young family. We included a pool, spa, baja shelf, and of course the waterfall and slide. You guessed it, the kids love the slide the best. All the neighborhood kids love coming over here now. The Hayward LED Lights in the pool and spa at night make it a perfect setting for relaxing. This is one of the first pools to have the Hayward remote control system that allows you to turn off and on everything from your smartphone.
San Dimas Pool Design & Construction, San Dimas Pool Builder
When looking for pool builders in San Dimas, no need to spend time having multiple companies come out. At Splash Pools and Construction, there is nothing more important to our business, than our customers.  It is our goal to make your pool building experience a positive and enjoyable one. We understand that your input and ongoing feedback is vital to creating a successful design. That's why we take time up front to get to know you and your family, visit your home and get a feel for your vision and needs.
Building RELATIONSHIPS, Not Just Pools