BBQ area ideas
now browsing by tag
Lake Forest Pool Contractor Features Elegant Pool and Spa
We are excited to share with you this fantastic video of a lake forest swimming pool, built by Splash Pools and Construction. We build swimming pools and spas in the Lake Forest, CA area. This beautiful Lake Forest swimming pool and spa features a modern black tile rim-flow spa that is gorgeous. The rectangular swimming pool adds to the modern look of this yard and has an elegant stone back wall surrounding the pool and scupper water features add movement.
In addition to the beautiful pool and spa in the backyard, we also built the BBQ and patio areas. The landscaping in the front yard was also designed and installed by Splash Pools. We are the one stop for outdoor design and construction projects, in Lake Forest and surrounding areas. Swimming pools are our specialty, but we can do the whole project, landscape, outdoor structures, outdoor living areas, fireplaces, masonry and more.
Finish off the look of your backyard with elegant outdoor furniture, lounge chairs and decor. This homeowner added great finishing touches with the American Flag artwork above this fireplace and conch shell on the mantle. If you need it, we can help add the finishing touch to your new backyard through our Finishing Touch Design Services, just call and ask.
Looking for a Lake Forest pool contractor?
Splash Pools is ready to start on your Lake Forest swimming pool and spa! We are located in Chino, but work in Orange County on a regular basis. As a family-owned and operated business, we make it our priority to provide the best service and quality construction to our homeowners. We rely on happy homeowners to refer us to their friends and family to continue our business. Please call us today to get started on your new swimming pool and spa in Lake Forest–909-614-1333!
 Lake Forest Pool Contractor – Lake Forest Pool Builder – Pool Design – Geometric Pool – Modern Pool – Orange County Pool – Orange County Pool Designer – Orange County Backyard Design – Luxury Pools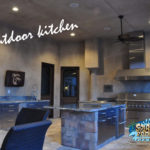 We've got outdoor kitchen ideas for you!
Outdoor kitchens are very popular right now, especially with our great California weather when we can be outdoors year round. Splash Pools has designed and built many outdoor kitchens and we will work with you to meet your needs.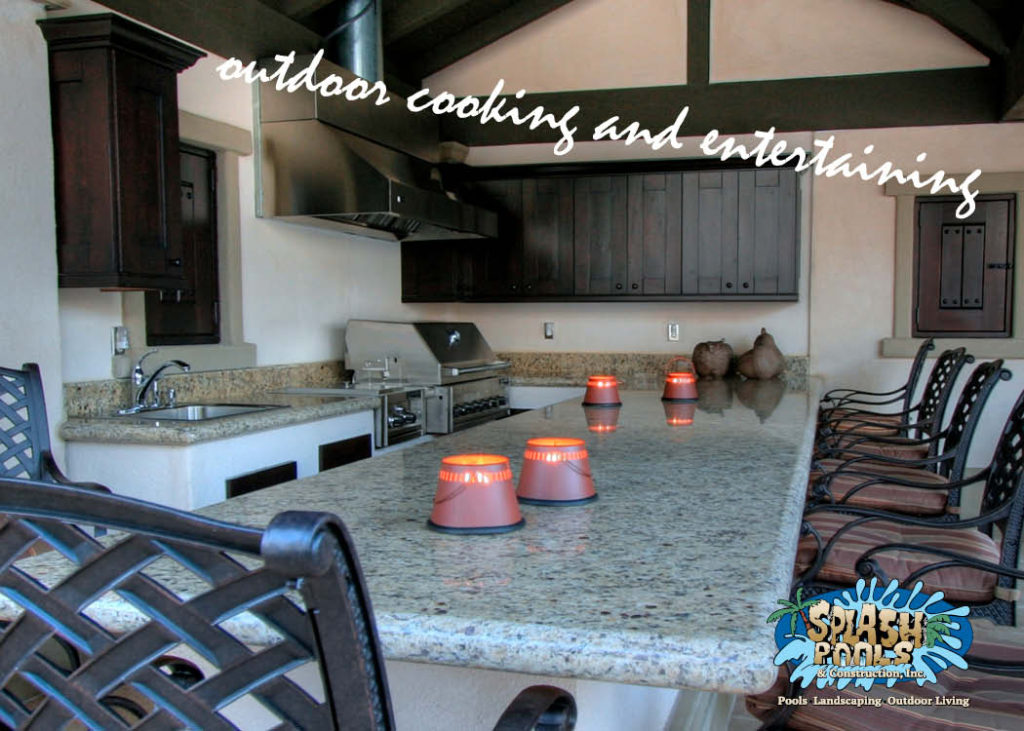 It's up to you with what you would like to include in your outdoor kitchen.
Most outdoor living areas and entertaining areas have a nice built in BBQ and mini fridge for easy outdoor cooking and convenient beverage storage. We can also accommodate specialty BBQs or smokers and design a custom built-in.
In addition to the built in BBQ and mini fridge options, the opportunities are endless:
Outdoor Pizza Oven
Oven and Stove
Vent Hood (if needed)
Full Size Refrigerator
Outdoor Sink
Cabinetry for Storage
Your outdoor kitchen will be designed to fit your needs and your lifestyle. We can also add islands, bar height seating areas and more!
Your outdoor kitchen area will need to be under a covered patio area or structure in order to be protected from wind and rain to be usable in all weather conditions.
Picking finish options is the fun stuff! We can help you select cabinet styles and color, countertops (think granite, stained concrete, marble, quartz and more), appliances, and backsplash (if your kitchen is designed with one).
Imagine being able to cook dinner outside while your kids are swimming in the pool and you can keep an eye on them. Even better, you are not limited to just a BBQ grill!
Splash Pools and Construction is a Southern California Pool Builder that also designs and builds outdoor living areas, patio structures, outdoor kitchens, landscaping and masonry. We will help you make your backyard the perfect location for entertaining and having fun. We can also help with the curb appeal of your home with masonry, landscaping and water features.
**Call us today for your free estimate – 909-614-1333**
2017 Backyard Design Ideas • 2017 Outdoor Kitchens • 2017 Outdoor Living Area Trends • Outside Kitchen Area • Patio Area Kitchen

Etiwanda Pool Builders
When looking for pool builders in Etiwanda, no need to look any further than Splash Pools and Construction.  At Splash Pools and Construction, there is nothing more important to our business, than our customers.  It is our goal to make your pool building experience a positive and enjoyable one. We understand that your input and ongoing feedback is vital to creating a successful design. That's why we take time up front to get to know you and your family, visit your home and get a feel for your vision and needs.  This philosophy is evident in our motto, Building RELATIONSHIPS, Not Just Pools
Etiwanda Pool Design & Construction
Pools are our passion, and we are always happy to answer questions and address any concerns about the process and costs.  We'll never leave you in the dark about the progress of your pool, nor do we wish to shut you out of the construction process. To the contrary, we actively encourage your participation in every phase with regular communication and follow-up calls. Your happiness is our number one priority.
Customer Satisfaction
This commitment to customer satisfaction is also apparent in the superior quality of our product. Award winning design, an uncommon attention to detail, use of only the best materials and tradesmen available and a personal sense of pride in our work are just a few things that make our work stand out above our competitors.   Contact Splash Pools and Construction today for a no obligation consultation to begin building the backyard you have always dreamed of.
ABOUT THE COMPANY
As an Etiwanda Pool Builder, Splash Pools and Construction is a family owned and operated California pool builder serving San Bernardino, Riverside, Orange County and the surrounding areas of the Inland Empire for over 30 years.  Splash Pools offers custom pool design, pool construction, pool remodel, outdoor living and landscaping services that Etiwanda homeowners can trust. 
Splash Pools and Construction is a proud member of the National Plasterers Council (NPC) as well as the Association of Pool and Spa Professionals (APSP), the premier trade association representing the international pool and spa industry. We are active members of the Chino Valley Chamber of Commerce as well as the Better Business Bureau
For more Etiwanda pool design ideas, pool maintenance tips, health and wellness information, outdoor living articles and recipes, please subscribe to our blog and YouTube channel, 'Like' us on Facebook or 'Follow' us on Google +.  For pool design photos and inspiration, please visit our photo galleries on our website.