backyard design and landscaping
now browsing by tag
Yorba Linda Swimming Pool and Landscape Construction
Splash Pools is your swimming pool and landscape construction company for Yorba Linda projects! We are ready to start on your Yorba Linda Swimming Pool and Landscape construction.
Recent Yorba Linda Swimming Pool Project
We recently completed this swimming pool and more in the hills of Yorba Linda. The project was designed by the talented Patrick May Landscape Design and we were able to bring the project to fruition.
When you walk out of the house to the backyard, you first see a beautiful glass tile overflow water feature with a fire feature in the middle. Out from the fire/water feature is a sundial in the decking that was constructed with white cement. Out from the sundial comes the vanishing edge pool, all along a similar radial curve.
The entire backyard design takes advantage of the beautiful view from this Yorba Linda home. The vanishing edge pool sits on caissons (structural posts that go about 20-30 feet down into the ground) and the end of the pool is curved along the edge of the yard. We are able to work with difficult pool sites like this to make your dream a reality. In addition to a vanishing edge pool, there is a vanishing edge spa to the left, separated from the pool. The pool and spa feature glass tiles, pre-cast coping and travertine decking.
Landscape planters with beautiful trees were carefully placed between the travertine decking and you go up a few steps to a nice lounging area.
There is also an exercise spa that is towards the side yard and a large built in BBQ and bar seating area.
We also built a large rock water feature wall at the front driveway of this fabulous Yorba Linda property.

Trusted Pool Builder
Splash Pools is a trusted Yorba Linda Pool Builder with more than thirty years of experience in the industry.
Yorba Linda Pool Builders – Yorba Linda Swimming Pool Builder – Yorba Linda Swimming Pool Contractor – Best Swimming Pool Contractor in Yorba Linda
2017 Outdoor Living Areas–Ideas!
Your outdoor living area really becomes an extension of your home when it is designed properly. The trend is sometimes called outdoor rooms or bringing the indoors out––how properly worded that your outdoor space is an extension of your home in both comfort and accessibility.
Having a home with large windows and doors to visually or physically have easy access outdoors is the first step. Next, you want to make sure that your outdoor living area is comfortable with ample seating options and entertainment. We can add fireplace, firepit, TV, relaxing water features, serene landscape and more. Maybe you like to entertain and play a lot games, so comfortable seating with tables would be a great choice. We can design built in seating areas and bar areas for seating. It is also great to add outdoor furniture to your living area. There are beautiful sofas that are made with outdoor fabrics so that you can have very comfortable seating. Don't forget to have a big and comfortable outdoor dining area!
Your outdoor living area would function best with a covered structure, whether is a wood patio structure, fabric canopy, extension of the house or stand alone structure, we can help!
With the addition of another space to all the spaces that already need to be cleaned and maintained, we can help you make material selections for a low-maintenance outdoor living (to the best of our abilities!).
Splash Pools and Construction will help you design a new Outdoor Living Area that is current with design trends, meets your needs and will function well.
Splash Pools worked closely with Toll Brothers on many of their model home pools (pictured above) that included beautiful and functional outdoor living areas. We are licensed for pools, landscaping and outdoor structures. Call us today for your free estimate and to get started on your 2017 outdoor living area.
Check to make sure we service your area, call today. 909-614-1333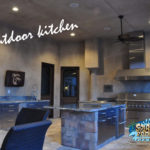 We've got outdoor kitchen ideas for you!
Outdoor kitchens are very popular right now, especially with our great California weather when we can be outdoors year round. Splash Pools has designed and built many outdoor kitchens and we will work with you to meet your needs.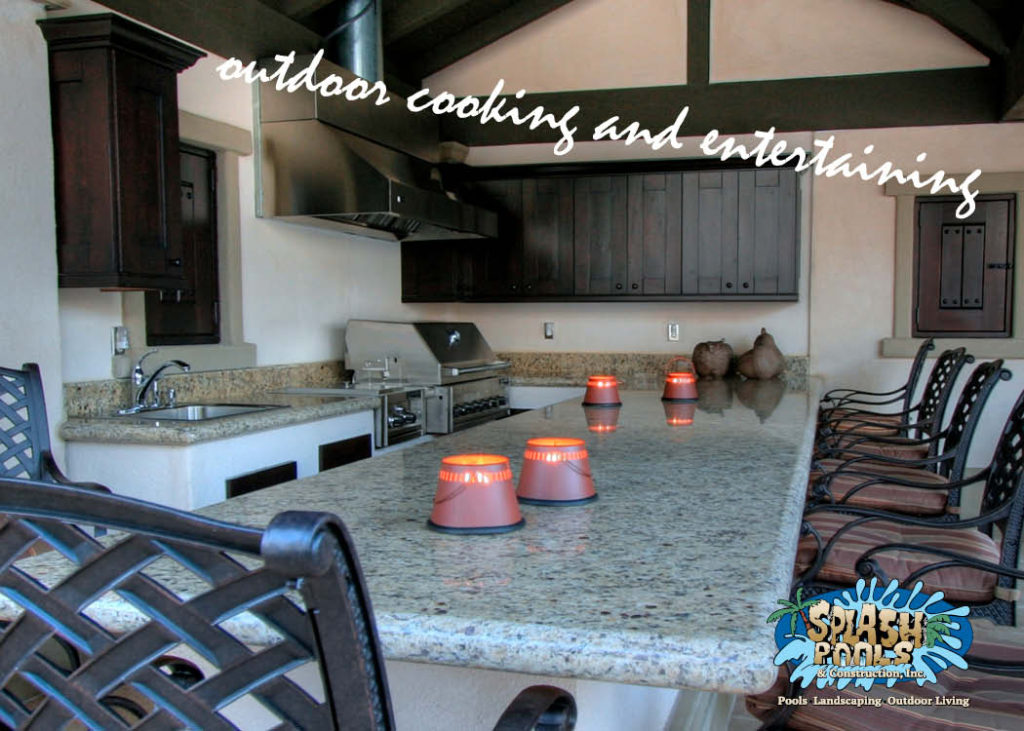 It's up to you with what you would like to include in your outdoor kitchen.
Most outdoor living areas and entertaining areas have a nice built in BBQ and mini fridge for easy outdoor cooking and convenient beverage storage. We can also accommodate specialty BBQs or smokers and design a custom built-in.
In addition to the built in BBQ and mini fridge options, the opportunities are endless:
Outdoor Pizza Oven
Oven and Stove
Vent Hood (if needed)
Full Size Refrigerator
Outdoor Sink
Cabinetry for Storage
Your outdoor kitchen will be designed to fit your needs and your lifestyle. We can also add islands, bar height seating areas and more!
Your outdoor kitchen area will need to be under a covered patio area or structure in order to be protected from wind and rain to be usable in all weather conditions.
Picking finish options is the fun stuff! We can help you select cabinet styles and color, countertops (think granite, stained concrete, marble, quartz and more), appliances, and backsplash (if your kitchen is designed with one).
Imagine being able to cook dinner outside while your kids are swimming in the pool and you can keep an eye on them. Even better, you are not limited to just a BBQ grill!
Splash Pools and Construction is a Southern California Pool Builder that also designs and builds outdoor living areas, patio structures, outdoor kitchens, landscaping and masonry. We will help you make your backyard the perfect location for entertaining and having fun. We can also help with the curb appeal of your home with masonry, landscaping and water features.
**Call us today for your free estimate – 909-614-1333**
2017 Backyard Design Ideas • 2017 Outdoor Kitchens • 2017 Outdoor Living Area Trends • Outside Kitchen Area • Patio Area Kitchen
Tips, Tricks and Ideas to be Water Wise during the California Drought
Splash Pools and Construction, Inc. – Serving San Bernardino, Riverside, Los Angeles and Orange County
The drought in California is a major concern for home and pool owners, as well as us pool builders. What you might not know is that having a pool and surrounding decking actually uses less than half the water than an irrigated lawn. Seriously? Yes!!!!
If you already have a pool, then you are off to a great start. Here are some swimming pool water saving tips to avoid water evaporation and be water wise with your pool this summer:
Install a pool cover to reduce water evaporation by as much as 90%.
Shut off waterfalls, fountains, and other water features to reduce water loss and evaporation.
Check the pool for leaks.  If you suspect your pool has a leak, contact us for help.
Minimize splashing or lower the pool's water level to reduce "splashout."
Plug the overflow line when the pool is in use.
Replace sand and DE filters with cartridge filters that do not require backwashing.
Keep your pool clean to reduce frequency of backwashing.
If your pool is heated, reduce the water temperature to reduce evaporation.
For more water saving tips around the yard and home visit Lets Pool Together.
For those of you in San Bernardino, Riverside, Los Angeles and Orange County that do not have a pool, now is a great time to build! The Splash Pools and Construction team has more than thirty years of experience in the pool industry and we would love to meet with you to design the backyard of your dreams. From the pool design, landscape and outdoor living spaces, we can do it all. Contact us today to set up an appointment. We come to you!
This is a fun, exiciting, and great entertainment backyard. We installed a pool and spa which added to their already surfer, beach themed backyard. This became a great place for all the neighborhood teens to hangout with all their friends. Hope you enjoy the scenery!
Splash Pools & Construction is your Claremont Pool Builder!