2017 pool design trends
now browsing by tag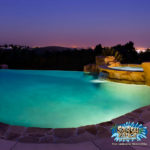 Added Swimming Pool Details or Features to Make Your Pool Spectacular!
There are so many different details or features that you can add to your swimming pool. Most people are prepared and know the general style of swimming pool they want and maybe one or two added features, but there are so many options out there! We really can design and build a pool to meet YOUR desires–budget allowing of course.
Here are a few pool details or features from past Splash Pools projects that you could consider for your new swimming pool.
Water features, like deck jets add movement and excitement to your swimming pool design.
The overflow edge is a current trend and gives a modern flair to a more traditional free form style rock pool like this one.
Swim up bar with in-pool seating is both convenient and fun for the entertainers!
Adding a reef step or baja step to your swimming pool is fantastic for young children and adults! Adults enjoy sitting in the shallow water relaxing on the warmer days and this is great for lounge chairs too!
Why settle with one waterfall when you can have three or four? This rock pool has an entire wall of waterfalls to enjoy in this personal oasis backyard.
Just because you have a small pool, doesn't mean it has to be boring. Adding a feature such as this curved tile wall with water fall adds so much to the design of this pool.
More About Splash Pools
Splash Pools and Construction's team has been working in the pool industry for more than 30 years. We have our own in-house crews to control the quality of our work. From our office in Chino, we serve several Cities in the surrounding area, including Yorba Linda, Chino Hills, Irvine, Tustin, Corona, Ontario and more. Call today to find out if we work in your area – 909-614-1333.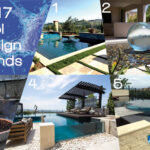 Thank you for visiting the Splash Pools and Construction blog.
The following are five design trends that we see for swimming pools in 2017.
1. Smaller Pools
We see a trend of smaller pools and more projects that are spa only. People used to want to fit as large of a pool as possible into their backyard, but the 2017 pool design trends to people wanting a smaller pool or spa only with plenty of space for an outdoor living area, outdoor kitchen or other lounging area. This works well with small Southern California backyards where space is already limited. We consider a pool to be smaller if it is less than 600 square feet.
2. Water Features
Water features are still very popular and can be added to a pool or as a separate focal point in the back or front yard. We've designed and installed anything from deck jets and waterfalls in pools to stand alone three tiered foundations and large rock water feature walls. The image below is an acrylic sphere rotating water feature sitting in a bed of natural rocks.
3. Fire Features
Fire features with pools and water features are very trendy right now. The technology available for fire features allows us to be able to construct fire feature bowls on pedestals in swimming pool so that they appear to be floating. We can also add fire features surrounding the pool or in addition to a stand alone water feature. If you look back at our blog post about the new pool in Yorba Linda you can see the custom water and fire feature that we built.

4. Acrylic Wall Pools
Raised pools with acrylic walls are definitely a 2017 pool design trend! After building several pools with acrylic walls for Toll Brothers, we have received request after request for a similar design. Acrylic wall pools require coordination with a structural engineer and attention to detail. The 2.5" thick pieces of acrylic must fit perfectly into slots within columns to maintain the structural integrity and prevent leaks. Depending on the layout of the yard, acrylic has been craned over the house for installation because of the weight. The good news is that we know how to do this and have built several acrylic wall pools.
5. Clean Sleek / Modern Look
Modern style pools with a clean sleek look are also a 2017 pool design trend. Most people are choosing straight lines, vanishing or overflow edges and contemporary design elements. The most interesting thing about this trend is that a lot of people with traditional style homes are opting for a modern style backyard and pool–the styles are being mixed together and that is okay! If you have a Tuscan or Spanish style home, it's okay to add a contemporary style pool.
Splash Pools and Construction Builds Trend-Setting Pools
Splash Pools and Construction is a Southern California Pool Builder. Our Owner, Jeff Stephenson, has been in the pool industry for more than thirty years! We attend trade shows, work closely with material manufacturers and work with experienced landscape architects to make sure we are up to date with current design trends. Call us today to get started on your 2017 Swimming Pool!
Want to know more about 2017 Pool Design Trends?
Call us today!
909-614-1333