2017 design trends
now browsing by tag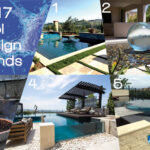 Thank you for visiting the Splash Pools and Construction blog.
The following are five design trends that we see for swimming pools in 2017.
1. Smaller Pools
We see a trend of smaller pools and more projects that are spa only. People used to want to fit as large of a pool as possible into their backyard, but the 2017 pool design trends to people wanting a smaller pool or spa only with plenty of space for an outdoor living area, outdoor kitchen or other lounging area. This works well with small Southern California backyards where space is already limited. We consider a pool to be smaller if it is less than 600 square feet.
2. Water Features
Water features are still very popular and can be added to a pool or as a separate focal point in the back or front yard. We've designed and installed anything from deck jets and waterfalls in pools to stand alone three tiered foundations and large rock water feature walls. The image below is an acrylic sphere rotating water feature sitting in a bed of natural rocks.
3. Fire Features
Fire features with pools and water features are very trendy right now. The technology available for fire features allows us to be able to construct fire feature bowls on pedestals in swimming pool so that they appear to be floating. We can also add fire features surrounding the pool or in addition to a stand alone water feature. If you look back at our blog post about the new pool in Yorba Linda you can see the custom water and fire feature that we built.

4. Acrylic Wall Pools
Raised pools with acrylic walls are definitely a 2017 pool design trend! After building several pools with acrylic walls for Toll Brothers, we have received request after request for a similar design. Acrylic wall pools require coordination with a structural engineer and attention to detail. The 2.5" thick pieces of acrylic must fit perfectly into slots within columns to maintain the structural integrity and prevent leaks. Depending on the layout of the yard, acrylic has been craned over the house for installation because of the weight. The good news is that we know how to do this and have built several acrylic wall pools.
5. Clean Sleek / Modern Look
Modern style pools with a clean sleek look are also a 2017 pool design trend. Most people are choosing straight lines, vanishing or overflow edges and contemporary design elements. The most interesting thing about this trend is that a lot of people with traditional style homes are opting for a modern style backyard and pool–the styles are being mixed together and that is okay! If you have a Tuscan or Spanish style home, it's okay to add a contemporary style pool.
Splash Pools and Construction Builds Trend-Setting Pools
Splash Pools and Construction is a Southern California Pool Builder. Our Owner, Jeff Stephenson, has been in the pool industry for more than thirty years! We attend trade shows, work closely with material manufacturers and work with experienced landscape architects to make sure we are up to date with current design trends. Call us today to get started on your 2017 Swimming Pool!
Want to know more about 2017 Pool Design Trends?
Call us today!
909-614-1333
2017 Outdoor Living Areas–Ideas!
Your outdoor living area really becomes an extension of your home when it is designed properly. The trend is sometimes called outdoor rooms or bringing the indoors out––how properly worded that your outdoor space is an extension of your home in both comfort and accessibility.
Having a home with large windows and doors to visually or physically have easy access outdoors is the first step. Next, you want to make sure that your outdoor living area is comfortable with ample seating options and entertainment. We can add fireplace, firepit, TV, relaxing water features, serene landscape and more. Maybe you like to entertain and play a lot games, so comfortable seating with tables would be a great choice. We can design built in seating areas and bar areas for seating. It is also great to add outdoor furniture to your living area. There are beautiful sofas that are made with outdoor fabrics so that you can have very comfortable seating. Don't forget to have a big and comfortable outdoor dining area!
Your outdoor living area would function best with a covered structure, whether is a wood patio structure, fabric canopy, extension of the house or stand alone structure, we can help!
With the addition of another space to all the spaces that already need to be cleaned and maintained, we can help you make material selections for a low-maintenance outdoor living (to the best of our abilities!).
Splash Pools and Construction will help you design a new Outdoor Living Area that is current with design trends, meets your needs and will function well.
Splash Pools worked closely with Toll Brothers on many of their model home pools (pictured above) that included beautiful and functional outdoor living areas. We are licensed for pools, landscaping and outdoor structures. Call us today for your free estimate and to get started on your 2017 outdoor living area.
Check to make sure we service your area, call today. 909-614-1333