Swimming Pool Details | Splash Pools and Construction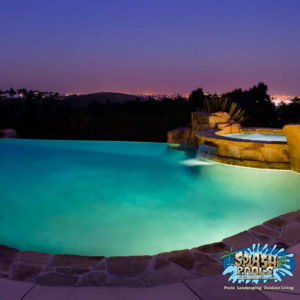 Added Swimming Pool Details or Features to Make Your Pool Spectacular!
There are so many different details or features that you can add to your swimming pool. Most people are prepared and know the general style of swimming pool they want and maybe one or two added features, but there are so many options out there! We really can design and build a pool to meet YOUR desires–budget allowing of course.
Here are a few pool details or features from past Splash Pools projects that you could consider for your new swimming pool.
Water features, like deck jets add movement and excitement to your swimming pool design.
The overflow edge is a current trend and gives a modern flair to a more traditional free form style rock pool like this one.
Swim up bar with in-pool seating is both convenient and fun for the entertainers!
Adding a reef step or baja step to your swimming pool is fantastic for young children and adults! Adults enjoy sitting in the shallow water relaxing on the warmer days and this is great for lounge chairs too!
Why settle with one waterfall when you can have three or four? This rock pool has an entire wall of waterfalls to enjoy in this personal oasis backyard.
Just because you have a small pool, doesn't mean it has to be boring. Adding a feature such as this curved tile wall with water fall adds so much to the design of this pool.
More About Splash Pools
Splash Pools and Construction's team has been working in the pool industry for more than 30 years. We have our own in-house crews to control the quality of our work. From our office in Chino, we serve several Cities in the surrounding area, including Yorba Linda, Chino Hills, Irvine, Tustin, Corona, Ontario and more. Call today to find out if we work in your area – 909-614-1333.