Splash Pools & Construction
now browsing by category
 Inground Pool Prices – How it works!
At Splash Pools and Construction, Inc., we specialize in inground gunite (concrete) swimming pools. On our website we have gallery to look at Pools by Price.  This is a general starting point for pool pricing, but we cannot give you an accurate price until we meet with you, see your yard and hear what kind of pool you want. We get phone calls all the time asking for general pool pricing and this is very difficult to do because there are so many variables. Asking for pool pricing is similar to asking for a price of a custom home…how custom, what size, etc. Inground pool prices vary greatly, because each pool built by Splash is a custom design.
We Recommend a No Cost In Home Consultation
If you want to dive further into looking at building an inground custom pool, then we recommend a FREE in home consultation where we come to you, look at your yard, discuss pool options and a budget. One of the great things is that we work with great pool financing companies that can help you achieve your pool construction goals. You can apply for these loans online.
More About Splash Pools
At Splash Pools and Construction we focus on Building Relationships, Not Just Pools. Our salesmen are experienced in the pool industry and will work with you to design an inground pool to meet your needs. Inground pool prices do vary greatly and we would love to meet with you to discuss the next steps for your backyard transformation. We are conveniently located in Chino, CA and work in the surrounding areas. When you call, ask if we serve your area.
Call our office today to set up a free in home estimate – 909-614-1333
Small Pool Designs are a current trend right now!
Small pool designs are great for several reasons….
Small pool designs fit well in Southern California backyards
Small pool designs allow for extra space for outdoor living areas or built-in-BBQs
Small pool designs can cost less  – less materials required
Small pool designs work well for modern pool styles
Small pool designs require us to get creative with the layout–which is fun for us
Here are two small pool designs that we built for Toll Brothers Model Homes at Baker Ranch.
These pools both have a modern style.
The first pool has black granite tile on the zero edge spa and an overflow edge pool that flows into a rock basin. The pool is built right up against the house and has a raised decorative wall at the back with copper spicket water features.
The second pool is the video is flush with the surrounding decking and zero edge. At the back left, you can barely see the beautiful green wall that accentuates this pool design. Surrounding this pool, you can see there was plenty of room for the built in BBQ and outdoor living area.
More About Splash Pools and Construction
Splash Pools and Construction is ready to work with you to design and/or build a small pool or large pool to meet your needs. We have in-house crews for the construction of your swimming pool! In addition to pools, we are also licensed for landscaping and patio structure construction. Give us a call today to get started on your new backyard design!
CALL US 909-614-1333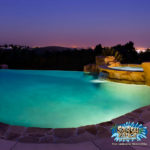 Added Swimming Pool Details or Features to Make Your Pool Spectacular!
There are so many different details or features that you can add to your swimming pool. Most people are prepared and know the general style of swimming pool they want and maybe one or two added features, but there are so many options out there! We really can design and build a pool to meet YOUR desires–budget allowing of course.
Here are a few pool details or features from past Splash Pools projects that you could consider for your new swimming pool.
Water features, like deck jets add movement and excitement to your swimming pool design.
The overflow edge is a current trend and gives a modern flair to a more traditional free form style rock pool like this one.
Swim up bar with in-pool seating is both convenient and fun for the entertainers!
Adding a reef step or baja step to your swimming pool is fantastic for young children and adults! Adults enjoy sitting in the shallow water relaxing on the warmer days and this is great for lounge chairs too!
Why settle with one waterfall when you can have three or four? This rock pool has an entire wall of waterfalls to enjoy in this personal oasis backyard.
Just because you have a small pool, doesn't mean it has to be boring. Adding a feature such as this curved tile wall with water fall adds so much to the design of this pool.
More About Splash Pools
Splash Pools and Construction's team has been working in the pool industry for more than 30 years. We have our own in-house crews to control the quality of our work. From our office in Chino, we serve several Cities in the surrounding area, including Yorba Linda, Chino Hills, Irvine, Tustin, Corona, Ontario and more. Call today to find out if we work in your area – 909-614-1333.
How does a backyard swimming pool fit with your new year's resolutions?
Let us explain!
The new year is well underway! Do you have any new year's resolutions that involve a new swimming pool in your backyard?
Maybe you do and you just didn't realize it until now.
Resolution 1: Spend more quality family time together.
Having a swimming pool right in your backyard is great for family entertainment and to spend time together. We wrote a post last year about how building a swimming pool is an investment in your family.

Resolution 2: Get healthy.
Swimming is great exercise. It is considered low-impact, great for cardiovascular health and convenient when you have a pool in your own backyard. So no more excuses, let's start on your new swimming pool today and get on the road to a healthy lifestyle. Read more here about swimming for exercise.

Resolution 3: Stress less/relax more.
Things move at such a fast pace in 2017! Leave your cell phone in the house and get outdoors. What could be more relaxing than spending time in your own backyard paradise? Help us help you to relax by hiring Splash Pools and Construction to build a new swimming pool. In addition to swimming pools, we can design/install custom water and fire features, outdoor living areas, built in BBQs/kitchens and landscape to complete your backyard.
No matter what your reason is for building a backyard swimming pool, the time is now to get started.
Looking for a backyard swimming pool builder – we've got you covered.
Splash Pools and Construction is a Southern California backyard swimming pool builder with more than thirty years of experience in the pool industry. We design and build swimming pools of all types from traditional free form pools to custom acrylic wall vanishing edge pools that have a more modern/edgy look.
Call our office to see if we work in your area – 909-614-1333.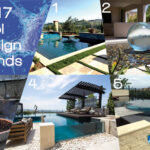 Thank you for visiting the Splash Pools and Construction blog.
The following are five design trends that we see for swimming pools in 2017.
1. Smaller Pools
We see a trend of smaller pools and more projects that are spa only. People used to want to fit as large of a pool as possible into their backyard, but the 2017 pool design trends to people wanting a smaller pool or spa only with plenty of space for an outdoor living area, outdoor kitchen or other lounging area. This works well with small Southern California backyards where space is already limited. We consider a pool to be smaller if it is less than 600 square feet.
2. Water Features
Water features are still very popular and can be added to a pool or as a separate focal point in the back or front yard. We've designed and installed anything from deck jets and waterfalls in pools to stand alone three tiered foundations and large rock water feature walls. The image below is an acrylic sphere rotating water feature sitting in a bed of natural rocks.
3. Fire Features
Fire features with pools and water features are very trendy right now. The technology available for fire features allows us to be able to construct fire feature bowls on pedestals in swimming pool so that they appear to be floating. We can also add fire features surrounding the pool or in addition to a stand alone water feature. If you look back at our blog post about the new pool in Yorba Linda you can see the custom water and fire feature that we built.

4. Acrylic Wall Pools
Raised pools with acrylic walls are definitely a 2017 pool design trend! After building several pools with acrylic walls for Toll Brothers, we have received request after request for a similar design. Acrylic wall pools require coordination with a structural engineer and attention to detail. The 2.5" thick pieces of acrylic must fit perfectly into slots within columns to maintain the structural integrity and prevent leaks. Depending on the layout of the yard, acrylic has been craned over the house for installation because of the weight. The good news is that we know how to do this and have built several acrylic wall pools.
5. Clean Sleek / Modern Look
Modern style pools with a clean sleek look are also a 2017 pool design trend. Most people are choosing straight lines, vanishing or overflow edges and contemporary design elements. The most interesting thing about this trend is that a lot of people with traditional style homes are opting for a modern style backyard and pool–the styles are being mixed together and that is okay! If you have a Tuscan or Spanish style home, it's okay to add a contemporary style pool.
Splash Pools and Construction Builds Trend-Setting Pools
Splash Pools and Construction is a Southern California Pool Builder. Our Owner, Jeff Stephenson, has been in the pool industry for more than thirty years! We attend trade shows, work closely with material manufacturers and work with experienced landscape architects to make sure we are up to date with current design trends. Call us today to get started on your 2017 Swimming Pool!
Want to know more about 2017 Pool Design Trends?
Call us today!
909-614-1333
Yorba Linda Swimming Pool and Landscape Construction
Splash Pools is your swimming pool and landscape construction company for Yorba Linda projects! We are ready to start on your Yorba Linda Swimming Pool and Landscape construction.
Recent Yorba Linda Swimming Pool Project
We recently completed this swimming pool and more in the hills of Yorba Linda. The project was designed by the talented Patrick May Landscape Design and we were able to bring the project to fruition.
When you walk out of the house to the backyard, you first see a beautiful glass tile overflow water feature with a fire feature in the middle. Out from the fire/water feature is a sundial in the decking that was constructed with white cement. Out from the sundial comes the vanishing edge pool, all along a similar radial curve.
The entire backyard design takes advantage of the beautiful view from this Yorba Linda home. The vanishing edge pool sits on caissons (structural posts that go about 20-30 feet down into the ground) and the end of the pool is curved along the edge of the yard. We are able to work with difficult pool sites like this to make your dream a reality. In addition to a vanishing edge pool, there is a vanishing edge spa to the left, separated from the pool. The pool and spa feature glass tiles, pre-cast coping and travertine decking.
Landscape planters with beautiful trees were carefully placed between the travertine decking and you go up a few steps to a nice lounging area.
There is also an exercise spa that is towards the side yard and a large built in BBQ and bar seating area.
We also built a large rock water feature wall at the front driveway of this fabulous Yorba Linda property.

Trusted Pool Builder
Splash Pools is a trusted Yorba Linda Pool Builder with more than thirty years of experience in the industry.
Yorba Linda Pool Builders – Yorba Linda Swimming Pool Builder – Yorba Linda Swimming Pool Contractor – Best Swimming Pool Contractor in Yorba Linda
2017 Outdoor Living Areas–Ideas!
Your outdoor living area really becomes an extension of your home when it is designed properly. The trend is sometimes called outdoor rooms or bringing the indoors out––how properly worded that your outdoor space is an extension of your home in both comfort and accessibility.
Having a home with large windows and doors to visually or physically have easy access outdoors is the first step. Next, you want to make sure that your outdoor living area is comfortable with ample seating options and entertainment. We can add fireplace, firepit, TV, relaxing water features, serene landscape and more. Maybe you like to entertain and play a lot games, so comfortable seating with tables would be a great choice. We can design built in seating areas and bar areas for seating. It is also great to add outdoor furniture to your living area. There are beautiful sofas that are made with outdoor fabrics so that you can have very comfortable seating. Don't forget to have a big and comfortable outdoor dining area!
Your outdoor living area would function best with a covered structure, whether is a wood patio structure, fabric canopy, extension of the house or stand alone structure, we can help!
With the addition of another space to all the spaces that already need to be cleaned and maintained, we can help you make material selections for a low-maintenance outdoor living (to the best of our abilities!).
Splash Pools and Construction will help you design a new Outdoor Living Area that is current with design trends, meets your needs and will function well.
Splash Pools worked closely with Toll Brothers on many of their model home pools (pictured above) that included beautiful and functional outdoor living areas. We are licensed for pools, landscaping and outdoor structures. Call us today for your free estimate and to get started on your 2017 outdoor living area.
Check to make sure we service your area, call today. 909-614-1333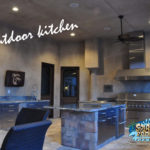 We've got outdoor kitchen ideas for you!
Outdoor kitchens are very popular right now, especially with our great California weather when we can be outdoors year round. Splash Pools has designed and built many outdoor kitchens and we will work with you to meet your needs.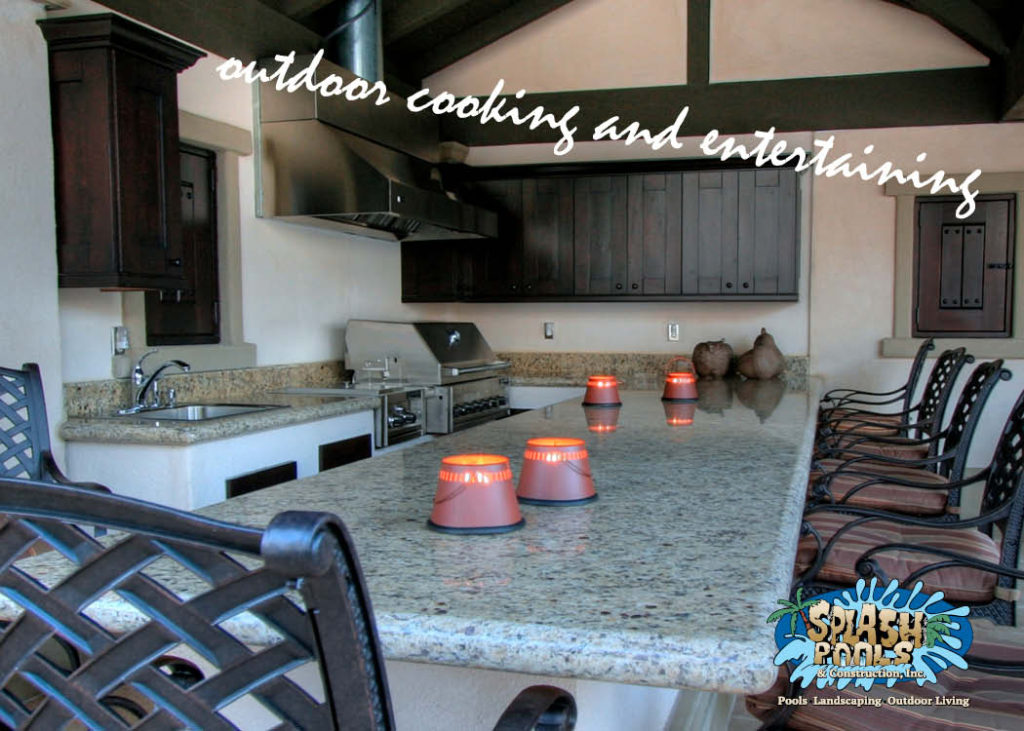 It's up to you with what you would like to include in your outdoor kitchen.
Most outdoor living areas and entertaining areas have a nice built in BBQ and mini fridge for easy outdoor cooking and convenient beverage storage. We can also accommodate specialty BBQs or smokers and design a custom built-in.
In addition to the built in BBQ and mini fridge options, the opportunities are endless:
Outdoor Pizza Oven
Oven and Stove
Vent Hood (if needed)
Full Size Refrigerator
Outdoor Sink
Cabinetry for Storage
Your outdoor kitchen will be designed to fit your needs and your lifestyle. We can also add islands, bar height seating areas and more!
Your outdoor kitchen area will need to be under a covered patio area or structure in order to be protected from wind and rain to be usable in all weather conditions.
Picking finish options is the fun stuff! We can help you select cabinet styles and color, countertops (think granite, stained concrete, marble, quartz and more), appliances, and backsplash (if your kitchen is designed with one).
Imagine being able to cook dinner outside while your kids are swimming in the pool and you can keep an eye on them. Even better, you are not limited to just a BBQ grill!
Splash Pools and Construction is a Southern California Pool Builder that also designs and builds outdoor living areas, patio structures, outdoor kitchens, landscaping and masonry. We will help you make your backyard the perfect location for entertaining and having fun. We can also help with the curb appeal of your home with masonry, landscaping and water features.
**Call us today for your free estimate – 909-614-1333**
2017 Backyard Design Ideas • 2017 Outdoor Kitchens • 2017 Outdoor Living Area Trends • Outside Kitchen Area • Patio Area Kitchen
Splash Pools and Construction is a Southern California Pool Builders.
We stand above other Southern California Pool Builders because of our dedication to homeowners, dedication to quality work and dedication to our employees. We strive to do our best on every project and provide the best customer service to our homeowners which makes us a top pick from Southern California Pool Builders.
As Southern Californian's we have the greatest weather to enjoy the outdoors year round. Southern California Pool Builders have the unique opportunity to give homeowners a yard that can enjoy year-round—so what do you want in your custom backyard retreat?
Depending on where you live, we can help make your outdoor living area more enjoyable by having it covered and even capable of closing off. Is it really windy where you live, then maybe it would be good to have a outdoor living area that is closed off on all or most sides. We worked with Toll Brothers on this amazing beach pool with an adjacent cabana that has glass walls that open up.
Having an outdoor patio structure is also great to provide shade on those warm summer days. Sometimes you really need a break from the sun! A patio structure is a great way to enjoy being outdoors, while protected from the sun and we can build them adjacent to your pool.
If you live in a hilly area with a great view, we want to help you enhance that view with a vanishing edge pool—like this!
Adding a fireplace makes your backyard more practical for the cooler fall (who are we kidding!) and winter evenings (or mornings!).
 When it comes to designing your Southern California pool, there are really endless options. We'd love to come to your house for a FREE estimate and see what your goals are for your project and what ideas you may already have.
Give Splash Pools and Construction a call today – the trusted Southern California Pool Builder! 909-614-1333
We just finished this California Desert Style Pool that we also call the Desert Oasis!
The homeowner had a dream about having a desert oasis backyard with a natural rock pool since they were a child. We helped make that dream a reality and they now have a fabulous California desert style pool.
At Splash, we typically do all of our rockwork in-house, but since we needed a lot of natural rock we had to use an outside company to help procure the natural rock needed. We worked closely with the outside company on natural rock selections, placement and blended it cohesively with the small amount of artificial rock that we designed for this pool. The two rock styles were blended meticulously to really complete a natural California desert style pool for this homeowner.
To take advantage of the hill and amazing view at this house, the pool is a vanishing edge and looks like the edge of a waterfall.
The spa is raised above the pool, next to the waterfall and both have a ton of natural rock. Working with natural rock and trying to get pieces to fit together properly is like working with a giant puzzle.
The landscape surrounding the pool is also in the California desert style with cactus, drought-resistant plants, natural rocks and even some animal skulls. The homeowners added their own outdoor décor that really adds to the style of this desert oasis.
Check out the video testimonial from these great homeowners.
Splash Pools and Construction
We work with each client to make their dreams for their yard a reality. Whether you are looking for an exciting desert oasis or a modern tranquil sanctuary, we can design something to meet your needs. We enjoy working on projects of all kinds. Splash Pools and Construction has in-house crews and licenses for pools, landscaping, outdoor patio structures and masonry.
Call us today! 909-614-1333