Inground Pool Ontario | Splash Pools & Construction
Are you looking to build an inground Pool in Ontario, California?
You've found the right in ground pool builder. Splash Pools & Construction has built inground pools in Ontario, CA. We understand the process to go through to build an inground pool in Ontario, we have worked with the City for permit approvals and inspections on past projects.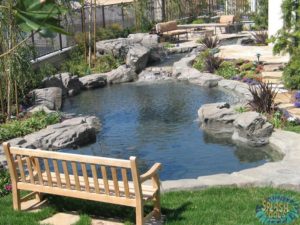 No matter what kind of inground pool are you looking to build in Ontario, CA. We can help. We design and build the projects in-house! Our salesmen work with you every step of the process from the initial design to the very end when you are filling your pool with water. Our in-house crews allow us to control the quality of our pools. We build shotcrete inground swimming pools.
Inground Pool Design
We work with each homeowner to come up with an inground pool design that works with your lifestyle and budget. We do it all, from luxurious resort style pools with vanishing edges and beach entries with slides to simple lap pools or spas. We can make the inground pool a fun and exciting place for kids to enjoy with waterfalls and slides or we can make it a relaxing retreat with a calm environment and bubblers. A swim up bar, like the one in this picture below is great for entertaining!
What about the rest of your yard around your inground pool?
We also design and install landscaping to accent your new inground swimming pool. Want a nice patio cover, outdoor living area or built in BBQ?  We can do that too. With our B-general contractor license for outdoor living patio structures we can help with all your outdoor needs.
What about pool equipment?
We install the pool equipment with your inground pool and use Hayward Pool Equipment.
In addition to being a builder for inground pool Ontario, we serve the areas of San Bernardino, Riverside, Los Angeles and Orange County. Contact us today to start working on your Ontario inground pool.